Second only to "what's your weekly workout schedule?" (see yesterday's post), the question I get asked most frequently is about my diet. I don't think of myself has having a particular diet—I just try to make healthy choices each day. In general though, I don't eat much meat or dairy, and I limit gluten when I can. Nothing is totally "off limits" though.
To give you a better idea of what a day of eating looks like for me, and so that I can join in on the What I Ate Wednesday link-up with fellow bloggers, I'm going to do a food diary-esque post from time to time—not every week, but I'll aim for once a month. Today's documents a day I worked from home, but I'll switch it up and do weekend days, travel days, etc.
I should mention that this is an abnormally healthy day for working from home–usually, working from home = continuous snacking (my preferred method of procrastination). Maybe because I was extra focused on my work, maybe because this blog post was in the back of my mind–whatever the reason, I really kept it clean.
6:30AM Green Juice
I like to start most days off with a juice. For today's I juiced:
½ bunch kale
1 small lemon
1" ginger root
1 green apple
4 stalks celery
½ cucumber
I enjoyed it while getting some morning work done on the blog. Not my ideal definition of drinking on the job—but I'll take it.
8AM Acai Bowl
I posted the recipe for this green acai bowl almost a year ago—it's still one of my favorite breakfast recipes. The awesome folks over at KIND sent me a bag of their Honey Clusters & Coconut granola, which was perfect for topping off this acai bowl. The next day I devoured the entire rest of the bag, if that's any indication of how delicious the granola was. 🙂
12:30PM Roasted Butternut Squash Spinach Salad
I put together this super simple salad with random veggies I had in the refrigerator. I tossed some spinach in a little balsamic vinagrette and topped with a chopped tomato, ½ an avocado, some roasted butternut squash and a sprinkle of crumbled goat cheese. Delicious!
For the squash, I just tossed some peeled chunks in olive oil, lay them out on a baking pan, sprinkled them with pepper, and baked for 20 mins at 400 degrees, flipping them over halfway through.
5:30PM Veggie Stirfry
I'm an early-bird-special kind of girl when it comes to dinner—5PM rolls around and I'm starving.
It's a little boring, but this is my go-to dinner when I'm feeling too lazy to spend a bunch of time preparing a creative meal. I just toss a bunch of chopped veggies into a pan with coconut oil, a clove of garlic (minced) and dash of pepper over medium-low heat, mixing frequently. When the veggies are just about done (soft), I mix in half a can of kidney beans, cook for a few more minutes, then dump it all in a bowl and top with half an avocado. If I'm extra hungry, I'll serve it over quinoa, but most of the time just the veggies and beans fill me up.
For tonight's, I used:
Butternut squash
Broccoli
Bell pepper
Onion
Mushrooms
½ can kidney beans
½ an avocado
1 clove garlic, minced
Dash of pepper
8PM Pecan Pumpkin Pie Bites
I still had some of the pecan pumpkin pie bites I blogged about last week in the fridge, so I snacked on two as a faux dessert (they're not really unhealthy at all, so I guess they're not technically a dessert).
And there you have it: a day in the life of my stomach.
What's your go-to easy dinner?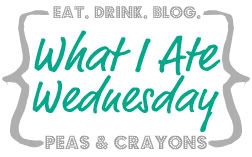 (Visited 3,181 time, 1 visit today)