I mentioned in a previous post that I was going to use the DietBet I'm hosting this month as a motivation to try out a little clean-eating diet experiment: vegan and gluten-free for four weeks. It sounded great in theory until the weekend rolled around and I remembered that the vast majority of beers contain gluten. Aaaand that ended that. A couple days later, I really wanted a couple eggs with fresh veggies for breakfast and remembered that unborn chicken fetuses aren't vegan. Aaaaand that ended that.
You go, Nicole!
But honestly, I don't feel like a quitter or a "failure." In my day-to-day life, I already limit the amount of animal products and gluten I eat, so what's even the point of a four-week experiment? I already know I feel better when I eat these things sparingly, and I already know that I'll never completely eliminate cheese, ice cream, seafood, eggs and beer from my life. So here's what my anti-diet DietBet diet (aka my normal eating habits) looked like the other day.
(6AM) Parsley-Filled Green Juice
I made myself a green juice filled with parsley because duh (<–Sunday's post on why parsley is a juicing superfood). In addition to half a bunch of the powerhouse herb, I put half a bunch kale, half a lemon, a green apple, half a green bell pepper and a half-inch of ginger in the juice. I drank it on my way to a 7AM spin class at Vélo-City.
(8:30AM) Green Eggs and (No) Ham
After a killer workout at Vélo (Meghan taught the class this morning and she's an awesome instructor), I made myself some eggs for breakfast. I whipped two together in a bowl with a splash of almond milk; tossed in some chopped chives and green peppers; added a dash of salt and pepper; and cooked it into a little frittata-looking thang in a nonstick pan. I added slices from half of an avocado as a finishing touch. Simple, but delicious.
(1PM) Rosemary Roasted Acorn Squash Arugula Salad & A Homemade Banana Almond Butter Chewy Granola Bar
After breakfast, I packed myself a big ol' salad and a banana almond butter granola bar (recipe posted yesterday) to bring with me to the library. The Southie library is maybe the most entertaining place on Earth to make your "office" for the day because of the characters who walk in the door. You're not technically allowed to eat food in there, but I like to live dangerously.
To make this salad, I tossed some acorn squash and green beans in olive oil, salt and pepper; placed them on a baking sheet; sprinkled with fresh rosemary; and roasted for 20 minutes at 400 degrees. I lightly tossed arugula with olive oil and balsamic and topped with pomegranate seeds, pistachios, and the roasted veggies. I then took these pretty pictures of it before dumping it in an ugly Tupperware container to bring to the library.
(6:30PM) Citrus Fall Quinoa Salad for Dinner
I was SO hungry by the time I got home from the library—really couldn't have made this meal any faster. This quinoa salad is basically just the Apple Feta Quinoa Salad I posted on the blog last year, but instead of feta, I stirred in about a ½ cup of my Apple Pie Hummus, and instead of walnuts I used pecans. Here's the breakdown:
Cook 1 cup of dry quinoa in 1 ½ cup water (bring to a boil, and then simmer for 10-15 minutes until fluffy).
Stir in a little extra virgin olive oil and juice from ½ a lemon.
Stir in 1 apple (peeled and chopped), ½ an orange (peeled and casings removed), ½ cup apple pie hummus, some chopped chives, a handful of dried cranberries and a handful of chopped pecans.
The leftovers will most definitely be tomorrow's lunch!
And for the record, in real life, no, I don't artistically sprinkle dried cranberries around my food before eating it. In blog photography life, however…
And that concluded my stomach's day. I went to bed really early, so didn't have time to get hungry again after dinner.
What does your anti-diet diet look like?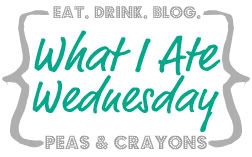 (Visited 2,811 time, 1 visit today)