Good morning! I thought this week would be an interesting one to do another WIAW post because I actually start a three-day juice cleanse today. Skinny Limits reached out to me about trying their juices, and as a huge juicing enthusiast, I of course took them up on their offer. I'll post all about my experience with it next week!
I mentioned in a previous post that I don't do much to prepare for juice cleanses (I've done a couple now, usually just for a day or two). This is because my day-to-day diet is already pretty clean and heavily plant-based. I do, however, eat a strictly vegan and gluten-free diet the day before. Here's what I ate yesterday to ease myself into the juice cleanse…
7AM Morning Juice
Even when I'm not "cleansing," I start my day with a juice almost every morning. Today's was simple, but so delicious.
1 orange, peeled
8 carrots, ends removed
½" ginger root
8AM Green Smoothie
I bought a big bag of organic spirulina from Mountain Rose Herbs a while back and have been adding a small scoop (about a teaspoon) to all my green smoothies lately. Nutritional value aside, I love the shade of green even just a tiny bit of spirulina turns smoothies—so pretty! This was a delicious combo:
Kale
Spinach
Pineapple chunks
Frozen banana
Almond milk
Flaxseed
Spirulina
1PM Snack-Turned-Lunch
I've been putting together a media kit for P&I this week, and was so in the zone that it wasn't until 1pm that I paused from my work and realized I was STARVING. I inhaled an orange while making my Roasted Spiced Chickpea recipe (I only used one can of chickpeas as opposed to the original recipe's two). Typically when I make these, I'll eat half the can as my snack and save the other half for the next day in a Tupperware container, but I ended up devouring the whole batch straight out of the oven. Spoiler alert: eating an entire can of chickpeas in under ten minutes is uncomfortably filling. Oops. So much for eating "light" in preparation for the juice cleanse…
6PM Everything-Must-Go Salad
Another thing I do to prepare for a juice cleanse is try my best to eat produce in my kitchen that I know will go bad. This salad was super random as a result of that, but still yummy. I tossed some brussel sprouts and butternut squash chunks in olive oil, pepper and dried basil flakes and baked on a pan lined in parchment paper for 20 minutes at 400 degrees. When done, I put them on a bed of baby spinach, heirloom tomatoes and alfalfa sprouts.
I'll let you guys know how the cleanse goes Monday!
How do you prepare for a juice cleanse?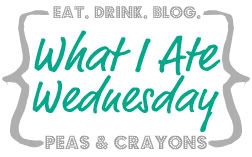 (Visited 1,968 time, 1 visit today)